You want to learn how to give massage?
Relaxation massage
Learn how to give a wonderful relaxation massage, not only lovely to receive but also to give!
All basic concepts and techniques of massage are discussed in this educational home study.
When you have completed this home study Relaxation massage of these massage techniques, you can give a lovely relaxing massage!
Not just great for yourself, but also for your family members and friends!
Herbal stamp massage
The herbs intensively detoxify, regenerate and care for the skin.
A wonderful massage to pamper all your clients!
The herbal stamp massage stimulates the body to function better and at the same time calms the body.
The stamp massage activates the metabolism and improves blood circulation.
The healing effects of the warm herbal stamps penetrate deep into the underlying tissue, even into the organs. The body still tingles hours after the massage. Of all the massages, the herbal stamp massage is the most pervasive in the body.
Hot stone massage
Hot stone, a frequently desired massage, lovely to receive and to give!
Hot stone massage was already used as a therapy in ancient times.
Nowadays, it is one of the most requested and offered forms of massage in wellness centers, tourist hotels, beauty parlors and massage practices.
As a hot stone masseur you can work in many places.
With a hot stone treatment, warm basalt stones are placed on or against the body and massaged.
The stones form a heat source that allows the body to relax.
In addition, the heat has a healing effect because it stimulates processes that remove toxins (waste material).
When the hot stone treatment is combined with a hot stone massage (with essential oils), the effect increases. You give massage with the stones. The combination of heat and movement allows you to get close to the muscle tissue.  The self-healing ability of the body is stimulated by this.
Emotional and physical energy flows better.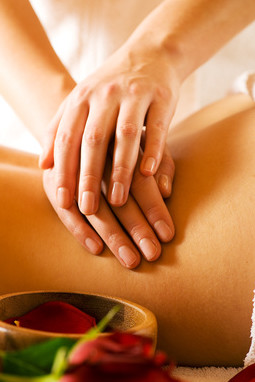 You like to provide a good massage?